Having a strong SEO strategy before launching a new website is important. After all, getting your website on page one of search engine results as quickly as possible is vital for helping your company's visibility and driving traffic to the site.
When you choose a business name that is unique, it can help you rank for the term more easily due to the lower keyword competition. However, when you choose a very prevalent, unbranded keyword such as Major Tom for the company name, the SEO game becomes tougher.

But that's okay. We like a challenge.

When we relaunched as Major Tom last year, we knew the name was well-established with David Bowie's song, Space Oddity. In fact, while some company names can receive millions of results on Google, Major Tom was showing about 1.45 billion. But we chose the name because it resonated with us. Communicating the bigger picture view and exploration theme - without sounding too much like a one-hit-wonder 90's band.

So how did we go head to head with David Bowie's (and Peter Schilling's) Major Tom and end up ranking second on Google and first on Bing's organic listings?

Within our SEO strategy, there were four key parts we took into consideration and they can help you if you're not currently ranking as high as you wish in search engine results.
SEO strategy 1: Keyword modifiers
It was important to indicate to search engines that there was now an alternative meaning to "Major Tom". The well-established term was generating billions of search results related to the fictional character created by David Bowie. But it was now time to indicate that there is a digital marketing agency that goes by that name, too.

We used keyword modifiers to help with this.
What are keyword modifiers?
They are terms added to the keyword searches that adjust the aspect of the keyword without changing the meaning. Essentially, they form long-tail keywords. By formulating a long-tail keyword strategy, you can go after less competitive search terms. This will improve your chances of being on page one of the results. The tradeoff is that search volumes are lower for long-tail searches because they're more specific. But, you'll likely attract more high converting visitors as you're more suited to their needs.

Niche related keyword modifiers such as "agency", "company" and "marketing" were chosen to communicate what our term Major Tom was about.

We also used geo-related modifiers. We made them hyperlocal by using the cities we are based in - New York, Toronto and Vancouver - to help give us visibility in relevant markets.
Google My Business
Google My Business played a valuable role as well. Having Major Tom registered as a business provided Google with another signal that Major Tom now had a different meaning. With the help of the keyword modifiers, searches for "Major Tom agency" or "Major Tom New York", would signal to Google to bring up the business's knowledge panel and thus show us on page one.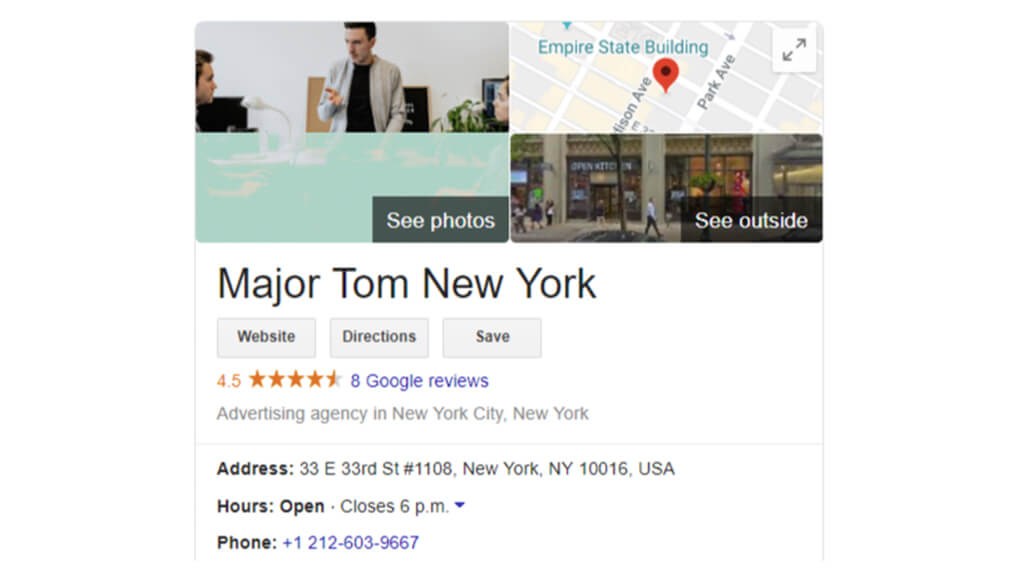 We did have challenges with Google My Business that we must be honest about. We migrated the account when we rebranded so that we could keep the 5-star reviews we'd been awarded under our previous brand. However, this seemed to affect having the knowledge panel show up in relevant search results. Even when we used detailed search terms such as "Major Tom agency New York", the knowledge panel sometimes didn't show. Perhaps this was because of the strength of Major Tom as an unbranded keyword and/or My Google Business not being completely updated to the new brand in the backend. However, this issue has reduced significantly now that we're ranked at the top of the first page of "Major Tom" search results.
Recap of keyword modifiers best practices:
Formulate a long-tail keyword strategy with words relevant to your business.
Use geo-related modifiers based on where your office(s) are located.
Create a Google My Business for each of your business's locations and add as much information to it as possible.


SEO strategy 2: Title tags
Title tags are an important indicator for both people and robots alike. They inform visitors about what they can expect when they click the link. This helps crawlers determine the relevancy of the web page in relation to the search query. Therefore, title tags are an important SEO ranking signal.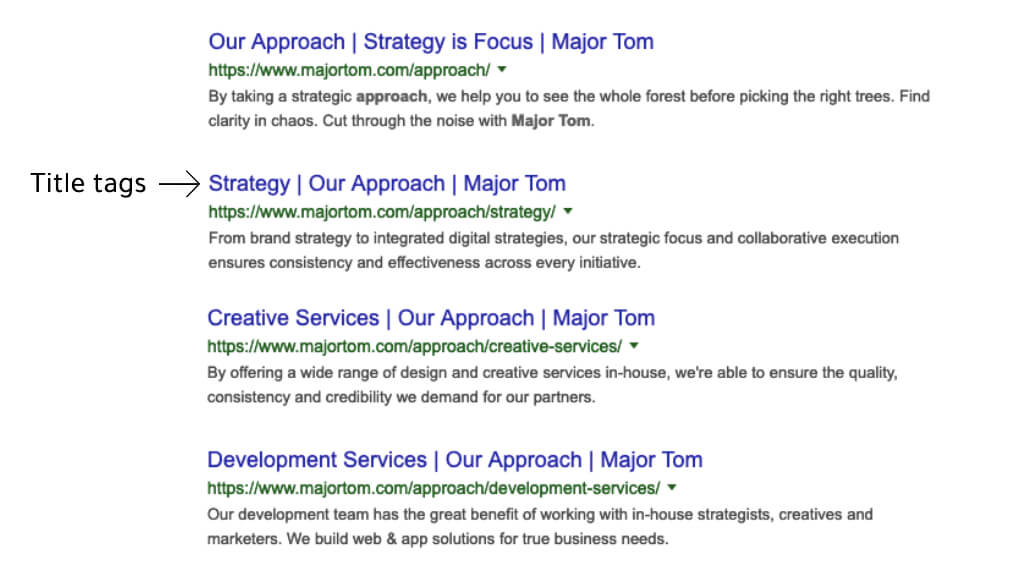 We, therefore, made it mandatory to include "Major Tom" followed by a brief page description within every single title tag on our website.

This created two key benefits for us.

Firstly, it helps make Major Tom more prominent as search engine robots and crawlers can better identify the content of a page. Some external websites - especially social networks - can also use the custom title tags to determine what to display when sharing a website page. This provides further context regarding the content and branding of a website page and further ensures relevance and usability.

Secondly, from a UX standpoint, it builds awareness and understanding of the Major Tom brand. With users directly searching for our agency and locating the relevant result thanks to our clear title titles, it helps build up the clicks to our site. This, in turn, indicates to the search engine that our web pages are relevant search listings for that keyword and so can improve our SERP (search engine results page).
Additionally, it's important to note that Google now uses a mobile-first index. This means that Google uses the mobile version of a page for indexing and ranking. To ensure we optimized our site for this, we ensured all title tags and metadata neatly fitted within the recommended character limit for mobile. With nothing having to be truncated in mobile views, our results appear clean and informative.
Recap of title tags best practices:
Make sure your title tags and metadata are informative about the linking page.

Add relevant keywords to title tags and metatags without keyword stuffing.

Avoid duplication. You can include your brand name on each page as long as the rest of the tag is unique.

Make sure that both title tags and metatags are optimized for mobile, fitting within the character limit.
SEO strategy 3: Structured data
As our website was being developed, our SEO and web development teams collaborated closely to ensure every piece of code was SEO optimized. Part of this was ensuring that markups were embedded into the site's coding. These markups provide search engines with a better understanding of the site's content. This, again, helps them understand the relevance of content in relation to the search query.

Understanding the importance of localized search, we not only adhered to best practices but also ensured that fundamental, structured data such as Organization and Website were included. With three Major Tom locations, it was important to signal to Google the differences by marking up information such as address, locality, telephone, and parent organization (being Major Tom).
The improved presence for local SEO, in turn, improves the overall search presence for a company and website. Implementation of basic structured data and further optimizations through Google My Business helped ensure that Major Tom was visible to both search engines and users.
Recap of structured data best practices:
Add markups with relevant information within the site's coding, such as

Address

Telephone

Business name

Author & title (for articles)

Date & title (for events)

As Google is very geolocation-focused, incorporating location into the structured data helps to rank your pages for relevant searches.
SEO strategy 4: External links and blog content
External links are highly valuable when trying to obtain a first page ranking on search engine. However, not any external link will do. As with pretty much every SEO factor, different elements of it hold different weightings so that search engines can suss out the quality of the link. This helps them make sure that they're providing relevant and high-quality results to users.
Some of the most important factors include:
How trustworthy the linking domain is

The popularity of the linking page

How relevant the content between the source page and the target page are

The anchor text used in the link (using "click here" as the anchor text is far less valuable than "Learn more about Major Tom")
In order to use external links to help us rank high for "Major Tom" searches from the get-go, we developed a strategy to create numerous external links to our site at launch. For example, a press release about Major Tom's launch was published and picked up by several publications. The press release contained links directing the visitor to relevant pages on the Major Tom site.

Additionally, we made full use of our listings on directory sites with high ranking domains such as Upcity, Clutch and Digital Agency Network (where you can find our client reviews). Our directory profiles were updated the moment we launched to reflect our new brand and provided links to our new website.
Blog content
Our blog, Mercury, is and continues to be, an important factor in maintaining our high positions on the first page of "Major Tom" search engine results. Along with new posts providing opportunities for us to create external links on high ranking domains, it also allows us to grow the number of opportunities to improve factors that affect SEO rankings.
How blogging helps SEO efforts
Adds fresh content to the site

: Search engines like to make sure they're not serving up out-of-date content and like to know that a site is being regularly maintained. Because we publish useful content on Mercury on a regular basis, search engines know our site is kept up-to-date.

Provides linking opportunities

: The more blog posts produced, the higher the chance of creating more outbound links, internal links and external links. We've already touched on why external links are useful but outbound, internal and inbound links are also valuable.

Outbound links with a credible domain and relevant content provide search engines with the confidence that you're sending users to valuable content.

Internal links improve UX by providing helpful navigation for the user. Carefully selecting relevant keywords for the anchor text also helps improve your ranking for them. This is because search engines see it as a way to strengthen the connection between the keyword search and the content contained on your site.

Finally, the more inbound links you have to a web page, the more valuable the page appears to search engines. However, increasing the number of inbound links is the most difficult as you're relying on external parties to create them. Having a blog can help because the more content you provide, the higher the chance others will find your content valuable and link to it.

Helps you target long-tail keywords:

Having a keyword strategy can help you rank for online searches that are relevant to your business. Specifically for Major Tom, it was important to publish blog posts during the launch that targeted long-tail keywords containing the keyword modifiers we chose at the start.
Recap of external links and blog content best practices:
Include external links to reputable and relevant pages.

Have reputable domains linking to your site.

Use informative anchor text, preferably including keywords.

Keep your site fresh by continually adding and updating content.

Include long-tail keywords within your blog posts to improve SEO ranking on those terms.
The results
How have all of these efforts helped our rankings since the launch? It's better to show than tell.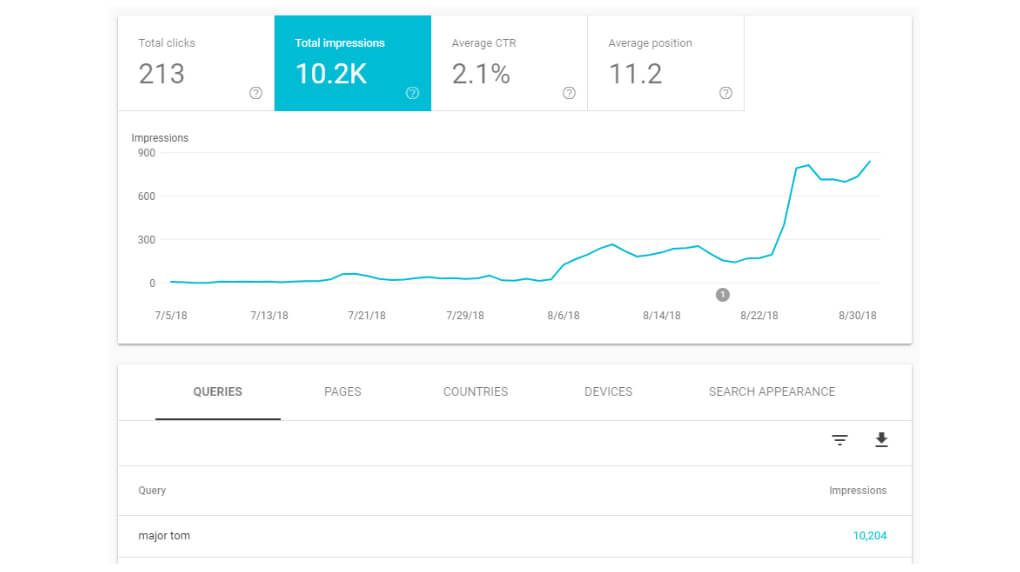 Based on "Major Tom" searches alone, we saw a large jump in search impressions three weeks after we launched.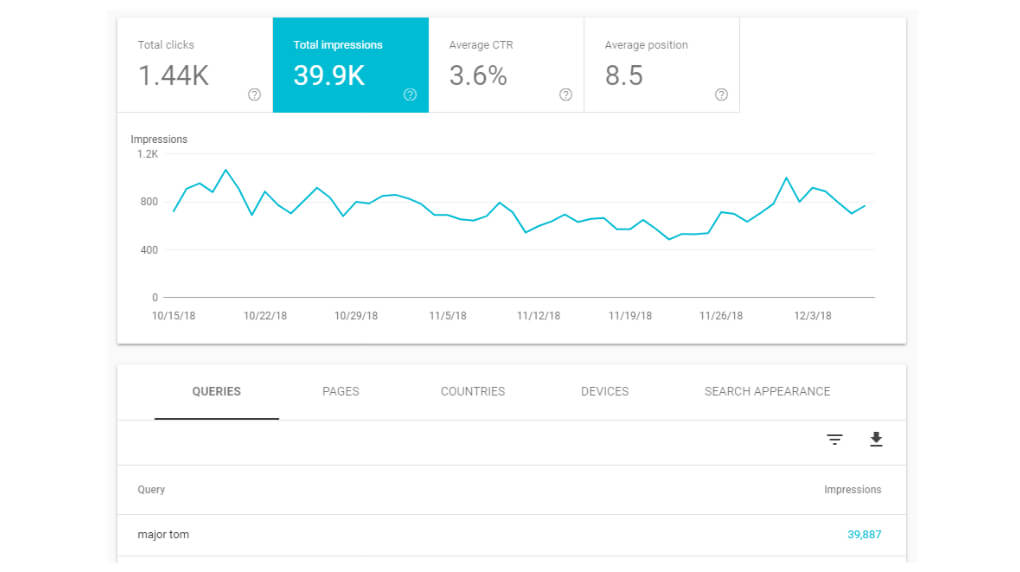 Three months later, our impressions had increased by 391% with the CTR increasing by 1.5%. This shows that our search listings were appearing more frequently in the first few pages (does anyone really go past page three?). Also, the increase in the average CTR was helping signal to Google that our listings were relevant for the term.
Being a marketing agency, we have the expertise to develop and execute an SEO strategy that improves visibility and increases website traffic organically. But going head to head with David Bowie's Major Tom for the top spot was a fun challenge. We're certainly happy to rank first for "Major Tom" on Bing, and second on Google (first when searches include our targeted keyword modifiers). Will we beat Wikipedia for that top spot? We'll see, but we're happy enough with Space Oddity securing position #0. After all, we're big fans of the song.