Remember when Pivot was just a great Friends meme? That term has now become one of the most prolific business buzzwords, speaking to a narrative of constant, rapid, and reactive change.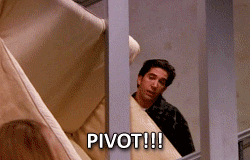 The week the world changed
As we celebrate (Mark? Note? Wearily acknowledge?) the anniversary of one of our agency's biggest forced pivots, Ariana Kolaitis, Major Tom's HR Manager, looks back on those first few days and what has carried us through such a challenging year.
Monday, March 9, 2020: We shared the first version of our Covid-19 Preparedness Policy encouraging no handshakes and staying home if you are sick.
Wednesday, March 11, 2020: Okay, here is our "worst-case scenario" plan.
Thursday (early) morning, March 12, 2020: Scratch that. Let's get everyone working from home.
Friday, March 13, 2020: Team goes remote.
And somehow, we managed to pull it off — all of our team across three locations went fully remote in the span of 48 hours.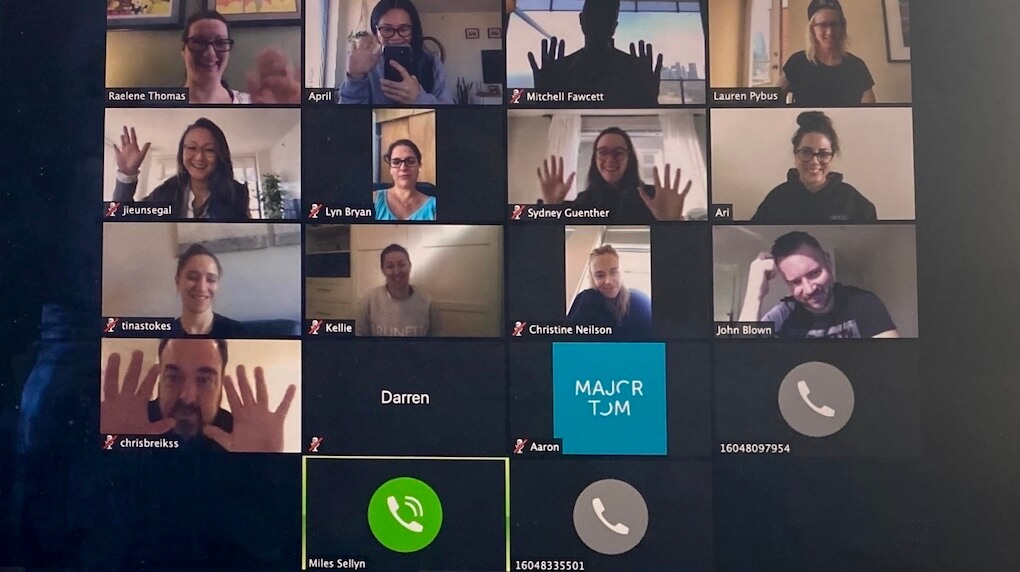 How we adapted
That Sunday, our leadership team spent the better part of a day attempting to plan for what felt like the complete unknown. We then spent the next three weeks adjusting that plan (again and again), navigating, and anticipating what to do next. While trying to digest our own feelings about what was going on around us, we needed to figure out how to best support our team through what was going on and put our own emotions aside.
As a company, we went through our own version of the phases of the pandemic that we all felt:
Phase 1: Engagement! Loads of Zoom lunch rooms, daily Zoom stand-ups, Friday Zoom drinks – Zoom all of the things!
Phase 2: We are totally Zoomed out.
Phase 3: We are Zoomed out but need engagement!
Overnight, so many HR best practices went out the window. Conversations that should happen in person had to happen via Zoom. We didn't have answers to the most basic of questions (could we let everyone take all their gear from the offices?). All interactions, be it interviews or performance reviews, became face-to-Zoom-to face. Zoom fatigue and lockdown fatigue continue to be ongoing challenges we face.
Did we do it perfectly? No. Did we do our best? Yes.
As a team, we constantly talk about our Major Tom values and what they mean. In short, the five core values are what we live and breathe as a team — they dictate our day-to-day and act as a north star for our company. Whether it's during the hiring process, deciding what clients to work with, or our internal team's performance, our values inform our actions and guide the choices we make. They keep us aligned, connected, and pulling in the same direction — global pandemic or not.
Looking back, I can clearly see how each of our values manifested themselves in our actions over the last 12 months.
Be a Plus Person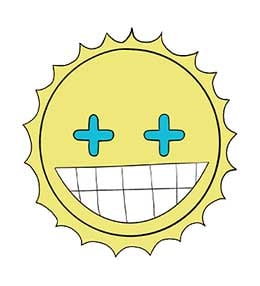 When faced with any challenge, rise to it

When faced with negativity, you meet it with positivity

When ethics are in question, you speak the truth
Much like everyone else in the world, we had what seemed like daily, weekly, and monthly challenges. New situations demanded new conversations and an increasing need for creative solutions. One of our biggest challenges was how to keep the team engaged and supported in the early days.
We have some team members who exemplified Being a Plus Person:
Kari, Office Manager of our Vancouver headquarters, took it upon herself to focus on our team's wellness. A certified yogi, Kari set up meditation sessions three times a week (which are still going strong!) and 1:1 sessions for anyone who needs help during the course of the day, be it a stretch or a chat.

Kumi, our very patient Payroll Manager and certified Zumba instructor, ran virtual workout sessions twice a week (and they are back in 2021)!

Ben, one of our Account Executives, taught us how to make the most deluxe mac and cheese I have ever devoured.
Being a Plus Person can be uncomfortable, too — it's not all Zumba and starchy foods. When, globally, the conversation turned to race and equality in the workplace, our President opened up a company-wide discussion. We had Plus People across our team speak up candidly to address the areas that we could be doing better as well as provide feedback on how we had handled our immediate response to the death of George Floyd. Thank you all for your vulnerability and honesty.
Have an Adaptable Attitude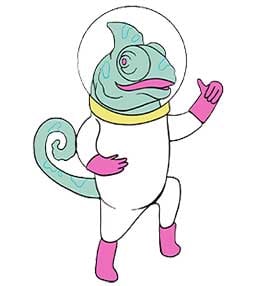 When you could have been better, you show vulnerability by taking accountability

When change happens, you lean into it to learn more

When something is broken, you are proactive and take the initiative to resolve it
Remember when we all thought we would be working from home for two weeks? Two weeks turned into two months, which turned into, "will we ever go back to the office?" Looking back, could we have done things better? For sure. But, you can't go back. You can only better prepare for the future. As a result, we took time to work on response plans for each department, so should we need to in the future, we have a framework of exactly what needs to be done across the business.
During the first week of working remotely, we welcomed new employees at Major Tom. That first round of remote onboarding was not perfect. But, a year later, we have a robust two-week onboarding process and have adapted our 90-day cadence to get our people set up for success. A recent hire described it as 'seamless,' which makes my little HR heart sing. Some of our amazing interns discuss the process in a blog post written about their virtual internships at Major Tom.
We also looked at performance management. We realized that annual reviews weren't going to work for us moving forward in an environment that lacked the day-to-day touchpoints you get in an office environment. We adapted to an informal quarterly cadence, which better serves our team with the opportunity to check in every few months.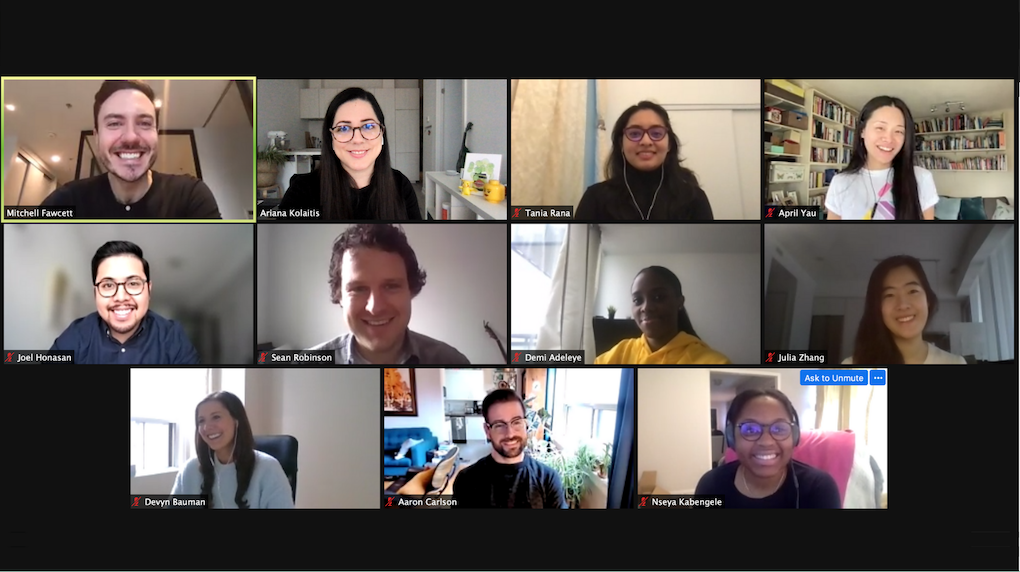 Have a Curious Mind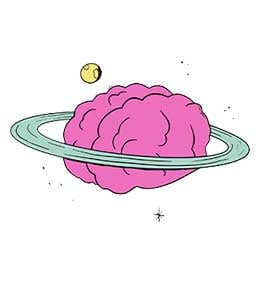 When you don't understand, you are resourceful and ask questions

You show up and offer your full attention

When there is a problem, you have the courage to overcome it
The last year has been full of challenges with a new problem to solve each week. We got curious about our team's lived experiences, so I spent a couple of weeks having 1:1 conversations across the whole organization; asking questions like, how could we better support you? Do you have what you need to work from home successfully? What are your biggest challenges?
Our team got curious, too. We implemented LinkedIn Learning as part of our professional development offering for the team and many of our team members took time to complete further learning on a variety of subjects.
2020 also amplified conversations surrounding Diversity, Equity, and Inclusion. April, one of our Group Directors, spearheaded the creation of our DEI committee that champions diversity, equality, and inclusion at Major Tom. So far, they have supplied our curious minds with company-wide speakers on subjects like race, inclusion, and anti-oppression in the workplace.
Own Your Impact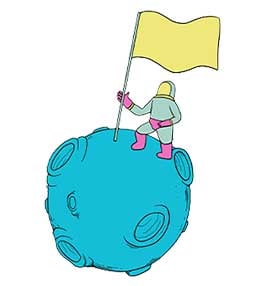 When you are tasked to do something, you do it well

When we're busy, you hustle

When faced with adversity, you persevere with passion
I can confidently say that each member of the Major Tom team hustled last year and truly owned their impact. Our sales team worked hard to welcome new clients for us to partner with, our project managers and marketing teams have executed beautiful campaigns, our developers and creative teams have launched user-friendly websites for clients, and our social media team has worked non-stop helping clients communicate effectively with their audiences.
We pulled together quickly to communicate openly with all of our clients about not only our own business continuity, but also the different ways we were able to support them.
For example, in June of 2020, the Black Lives Matter movement spearheaded global demonstrations and sent brands into a panic over how to respond appropriately. A number of our teams rose to the occasion to help our clients align on and understand their involvement and determine how they could contribute in meaningful ways. No one client's position was alike, so we took the time to have vulnerable and honest conversations with them, helping them shape authentic responses.
Lead with a Humble Heart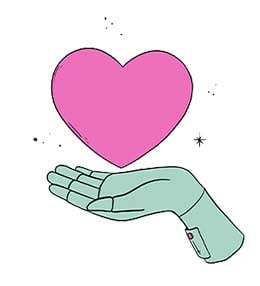 When someone needs help and support, you give it

When someone has something important to say, you stop to listen and learn

When someone has contributed well, you show your appreciation
One aspect of our work over the past year that none of us was quite prepared for was how fast and furious it would be – as the landscape changed, businesses pivoted quickly (there's that word again), and our partners needed us to help them carry the couch, so to speak. That meant each of us needed to, at times, try on some different hats.
Thankfully, we have a robust internal committee structure at Major Tom, that covers everything from UX, paid search, SEO, all the way to accessibility. These committees, led by subject matter experts and team leads, take time to present Lunch and Learns to share their knowledge and expertise with the agency as a whole. Beyond that, they always make themselves available to help team members with a problem that may be just outside of their wheelhouse. Client needs a payment gateway set up in the next 12 hours? Ask the eCommerce committee. Need a whole banner suite refreshed to reflect an updated value prop or curbside pickup? The creative committee's got your back.
As we helped and supported each other so much over the course of the year, we wanted to make sure we took time to recognize one another beyond our regular weekly cadence of peer recognition. That's why, in lieu of our annual holiday party, we hosted the 1st Annual Tommie Awards.
Our team came together virtually to celebrate one another for making it through a challenging year, and recognize those team members who went above and beyond to make Major Tom the place it is. While we plan on having in-person parties again in the future, some elements (kid cameos, award statues, Rod Boss the Close Up Magician of the Year) will likely be here to stay.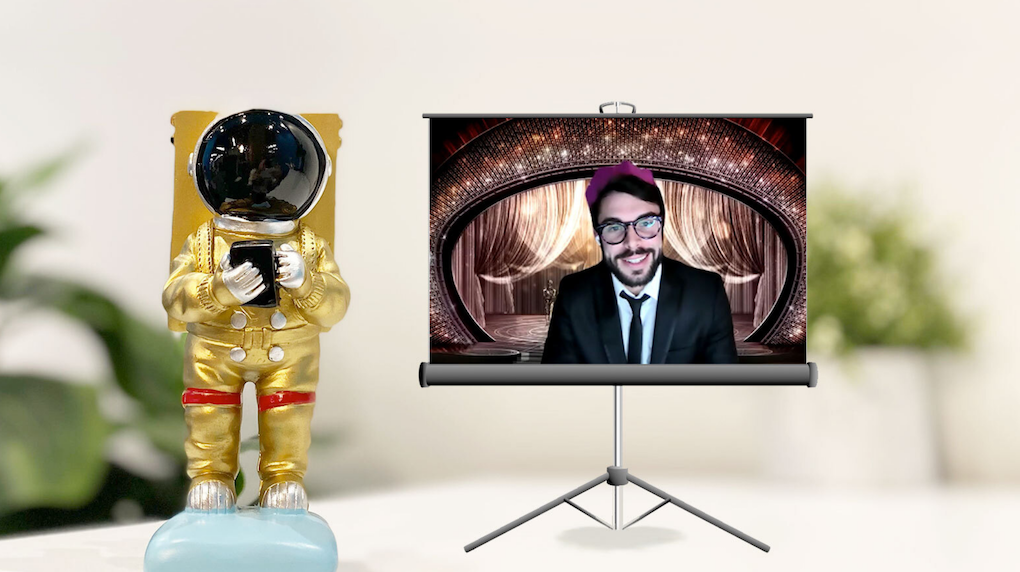 With challenge, comes opportunity — and the chance to reflect
This year brought us many, many challenges but it also forced us to take an honest look at our processes and, in some cases, policies. The pandemic allowed us to remove the geographical boundaries we had in place before with 95% of our team now working remotely. We are now hiring incredible talent from across the US and Canada. The benefits we offer now support our team wherever they chose to work and include a remote working stipend.
I may have spent the past year working as an HR team of one, but felt completely supported and empowered by our amazing team. I'm also a part of something much, much bigger. I work with 65 people who genuinely care. I am so proud of each and every one of those people for the work we have collectively done over the past 12 months — but more than that, I'm proud of each of these people for living our values during a time when it felt almost impossible to do so. I know, for one, that I couldn't have done it without you all.