In a crowded, post-pandemic eCommerce landscape, there's no silver bullet for growing your Shopify sales.

The right strategy to scale takes a combination of proven marketing tactics, smart use of customer data, and knowing when to embrace the latest and greatest tools for expanding your audience.

That's why at Major Tom, we make a point of keeping our finger on the pulse of up-and-coming Shopify trends and integrations that might benefit your business.

Part of that is the standard stuff: market research, investing in our team's expertise, and experience from our previous work with Shopify. And part of that is our Tin Can store, a Shopify-powered lab where we experiment with new technology and test future-friendly strategies to help keep clients' eCommerce at the cutting edge.

Our latest test subject? Introducing cryptocurrency capabilities for Tin Can, built with a Shopify-ready payment portal that allows you to accept crypto payments from your customers. And after some firsthand experience, we're so thrilled about the possibilities that we're offering free crypto integration for clients' online stores throughout the month of September.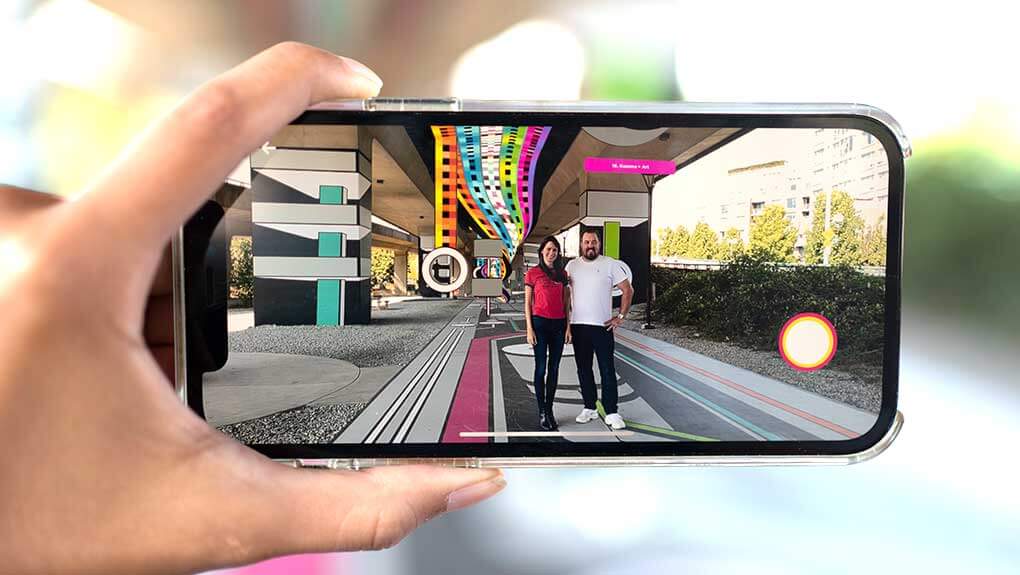 Victoria Samways, Marketing & Cryptocurrency Group Lead, and Chris Breikss, Co-Founder, at the blockchain AR art installation, Vancouver, BC.
Why should you be as excited as we are to accept crypto payments in your store? And how can they support your future plans to scale? Let's take a look at what we've learned.
The shift from investment-friendly to consumer-friendly crypto
Bitcoin — the first cryptocurrency — was introduced all the way back in 2009. Its stated mission was to provide a digital payment option that would make online transactions faster, easier, and more secure for consumers.

In practice, however, crypto's growth has been driven largely by investors for years. Despite the opportunities for consumers and businesses, they were often left on the outside looking in, even as the popularity of virtual currencies continued to grow.

However, the underlying technology — and its benefits for consumers — didn't just disappear.

With a pandemic-driven boom in eCommerce revenue that shows no signs of stopping, things have come full circle. Not only have major brands like Microsoft, Paypal, and Overstock introduced crypto into their eCommerce offerings, but businesses and consumers alike are taking a renewed interest in crypto transactions, with the number of virtual currency users almost tripling between 2018 and 2020. User options for crypto transactions are also becoming increasingly flexible, with the number of compatible apps for popular crypto exchanges like Coinbase growing steadily.
Expanding your Shopify audience with cryptocurrency
The interest is there, but what exactly do cryptocurrencies have to offer your Shopify store?

First off, they stand to expand your pool of potential customers. As globe-spanning currencies, crypto coins provide an appealing option for international customers who don't want to spend time and money dealing with exchange rates at the point of purchase. Building a campaign to attract international customers means extra legwork for your team, and the last thing you want is to lose a potential sale in the home stretch because of extra hurdles at the checkout. And with hundreds of billions of dollars in growing international eCommerce markets, you're leaving money on the table if you don't address potential payment hurdles for these customers.

The same principle applies for eCommerce shoppers closer to home: the more options you provide to streamline their checkout process, the more their experience — and your conversion rate — stands to benefit. Not to mention that cryptocurrency payment at checkout can be a selling point in and of itself: both for customers who make a point of championing virtual currency, and for the crypto-curious who want a safe way to dip their toes into the water.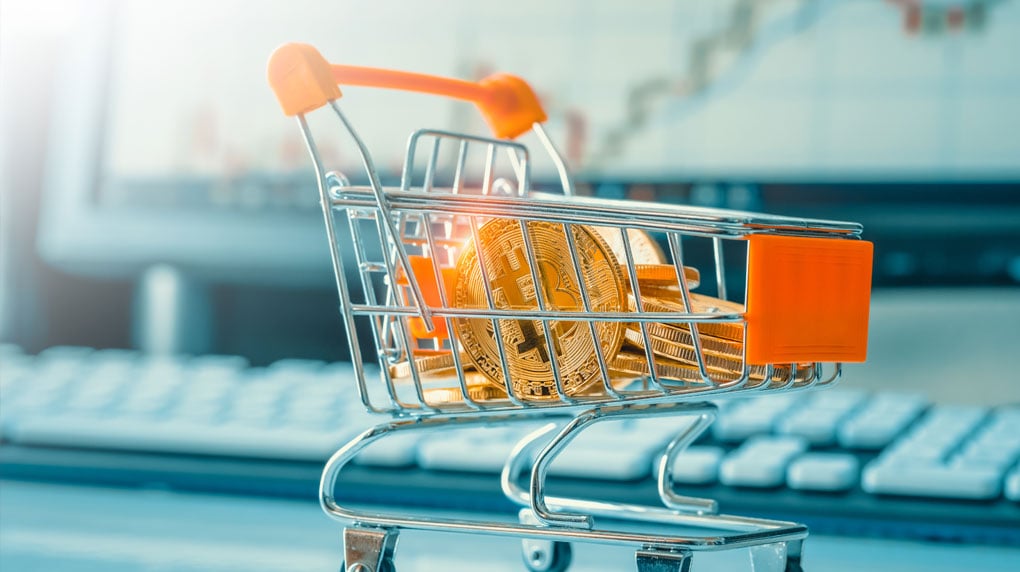 Keep streamlining your checkout process
When it comes to scaling your sales, you can't underestimate the importance of a frictionless shopping experience. Reducing the amount of info and the number of clicks you need from a customer to complete their purchase helps to encourage both new and return shoppers. Stored customer profiles, integration with tools like Shop Pay and providing the right currency options all help streamline that process.

But what about speed? One of the historical barriers to retail crypto payments is that transactions could take a matter of minutes to verify. Plus most coins' rate for processing transactions was limited compared to bigger payment systems — think in terms of being able to process 5-10 transactions per second vs the thousands of transactions per second processed by a big player like Visa. As a rule of thumb for digital interactions, any delay of 10 seconds or more means losing a visitor's attention and, potentially, the sale.

However, developments in blockchain technology have helped to speed up and further secure virtual currency transactions. Although different crypto networks and exchanges have taken different approaches, advances in blockchain technology have sped up retail crypto transactions enough that they can be confirmed/closed with no noticeable delay for the shopper.
Secure transactions for satisfied customers
This goes hand-in-hand with transaction security, which also benefits from the advanced encryption that goes into verifying cryptocurrency transactions, usually hosted across a worldwide, decentralized network. Put succinctly, these transactions tend to reduce the risk of digital fraud when used for purchases in your Shopify store.

Think of this as saving your business money on two fronts. First, it means your team has to spend less time resolving customer issues and transactional problems. Second, by reducing the risk of digital fraud, it can reduce the sort of third-party processing fees that would normally take a sizable bite out of your digital sales.

Together, these savings can help mitigate the cost of integrating cryptocurrency into your eCommerce ecosystem, and set you up for further growth down the road.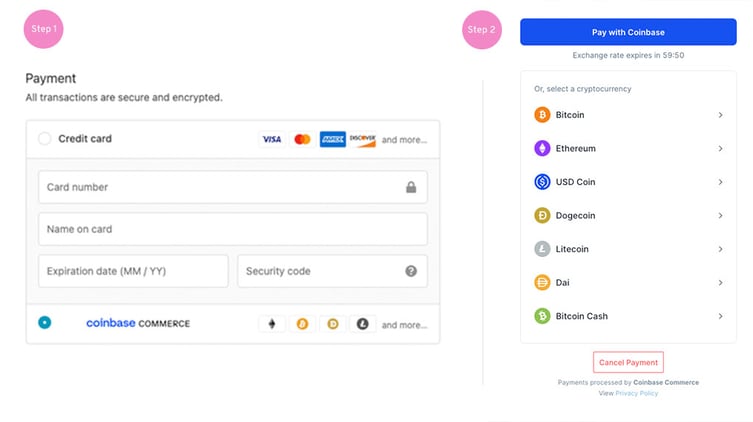 Implementing your own payment portal
Good news: getting crypto into your storefront has never been easier. For the Tin Can store, we've used one of our favourite crypto payment plugins from Coinbase. It's one of the companies that have set out to simplify crypto integration with pre-built integrations for Woocommerce and Shopify, with a plug-and-play approach that can be customized for your business.

Without needing to know the technical ins and outs of every coin on the market, you can set up checkout options for multiple currencies, and either convert or sell your crypto all within the same system. It streamlines the process for both you and your customers, cutting out the technical busywork so that your transactions remain manageable, even as your sales grow.

At Major Tom, we've also announced that we'll be offering free crypto integration for clients' Shopify stores throughout the month of September. We're big believers in the potential growth that crypto can enable for your store, and we want to help businesses take advantage of that. To enquire about this service, contact us today.
Other tactics to keep your sales scaling
Outside of your payment portal, many of the same principles apply when you're trying to win over and hold onto customers' attention. Eliminating any friction in your checkout process, reducing the number of steps between a visitor's first touchpoint and purchase, and automating personalized outreach to keep your business top-of-mind will all help drive growth for your store.

For example, SMS campaigns are seeing a resurgence for businesses whose customers are largely shopping on mobile devices. With the right setup, they can be used to augment your other campaigns with abandoned cart reminders, discount notifications, and more, direct to a customer's phone. These campaigns don't require heavy oversight once they're running and can help win back lost customers by providing them with a quick-and-easy route back to a purchase. Paired with a personalized incentive to return (like a discount code), these campaigns can be shockingly effective at scale.

This ensures you're getting the most out of the ad spend that brought them to your store in the first place, which is especially important as your reach and customer base continue to grow.

If you find you're hitting roadblocks as you scale, we've got just the blog post to help.

Read next: Moving past the myth of CRO best practices to improve your Shopify store's conversion rate