Have you ever been on a spontaneous working holiday with your co-workers? Would you ever choose to go on holiday with any of your co-workers? A few of us here at Major Tom have done it, and the conclusion is that we would all do it again in a heartbeat.
So how did five of us — plus one partner who just happens to work in travel (win) — find ourselves boarding a plane to Mexico around 72 hours after making a joking comment? And how does all of this accentuate our company values? Let us tell you.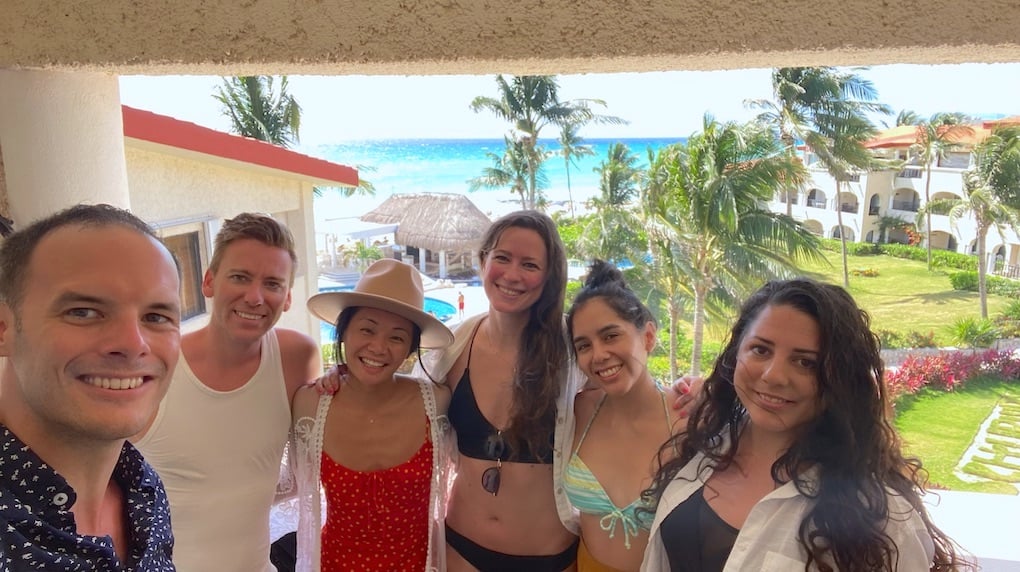 From left to right: Tom, Ben, April, Victoria, Carolina, Ari
Following a two-month working stint in Australia to see her family and friends, our HR & Recruitment Manager, Ari, popped over to our HQ in Vancouver for a few days. Her plan was to catch up with those working at the office before finally returning to her flat in Toronto. On Thursday night, she went for dinner with April Yau, Director, Account Services and Victoria Samways, Marketing & Brand Manager, in a gorgeous little restaurant in Chinatown. They shared conversations about Australia, remote working, and generally caught up in between taking photos of food when it arrived (sorry not sorry).
Eventually, the conversation led to Ari discussing the latest on her quest for Permanent Residency. She would soon be on implied status, meaning she wouldn't be able to leave Canada for some time. "I know you've just been out of the country for a few months, but you should make the most of it and go somewhere else while you can." was what we were telling her. Las Vegas? Alaska? Hawaii?! We giggled and joked — even as we started to talk ourselves into the trip. "Are we serious?" "Wouldn't it be funny if...".
By Friday afternoon, we had looped in anyone and everyone who walked past our desks. With those who said yes, we booked flights and a fabulous apartment in Playa del Carmen with the help of Tom, April's partner and travel guru. In the end, we opted for Mexico over Hawaii due to the price difference. We were a spontaneous bunch, but we could still be economical with our money!
On Sunday morning, at what can only be described as ridiculous o'clock, six of us were boarding the plane. Along with Ari, April, and Victoria, we had Ben Van Exan, Account Executive, Carolina Horna, Social Media Strategist, and travel booker Tom join us on our adventure.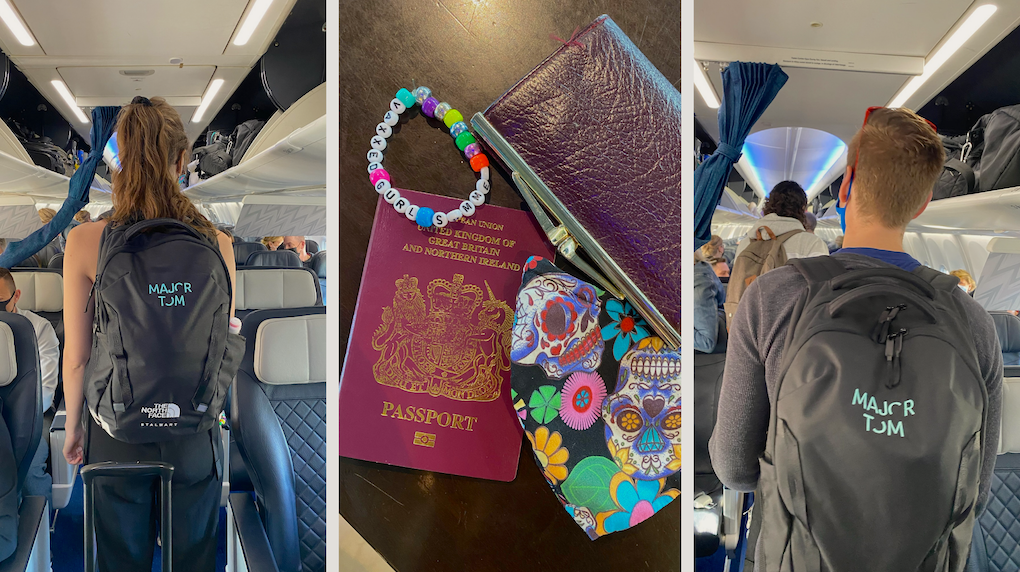 One evening, when we had finished work and were sipping on margaritas, we took a moment to savor the experience. We chatted about how much we enjoyed being away with co-workers for a week and how it actually played into our company values.
Major Tom's Values
Own your impact
We may have gone to a holiday destination but we were still there to work. We all took Friday off, but the rest of the week had plenty of business mixed in with the sun. That meant we didn't throw our teammates off with the quick turnaround for the trip — but it also let us save our vacation days for the holidays we had actually planned for this year.
We decided on an Airbnb rather than a resort to guarantee strong enough wifi for work, without extra charges. We decided to work EST hours and made sure all of our meetings were within that timezone — which worked with our offices being situated in New York, Toronto, and Vancouver. Then we made sure we all had a designated spot for any overlapping meetings. We'd all experienced the dreaded Zoom background chatter, and would make sure those distractions didn't crop up on our calls.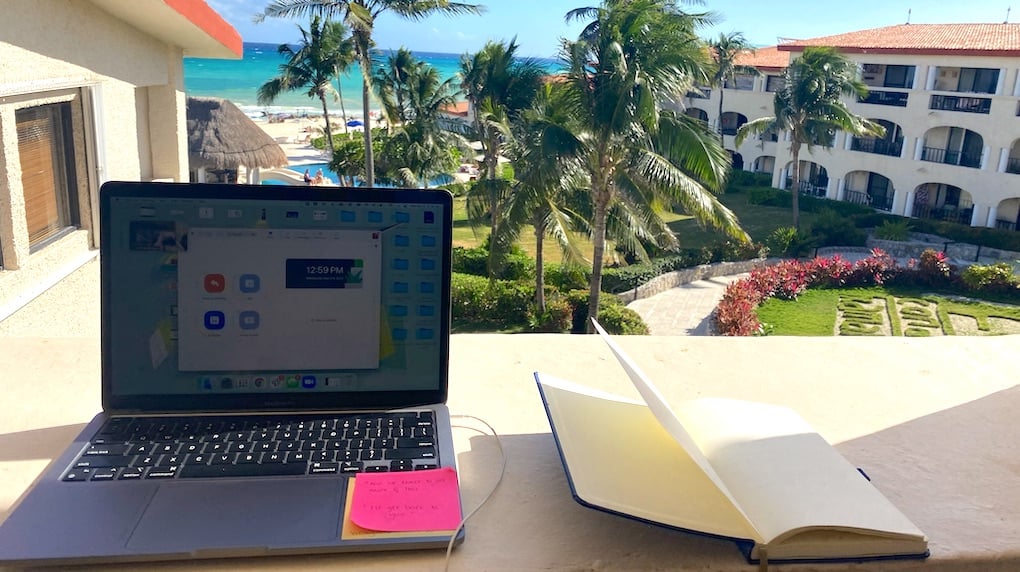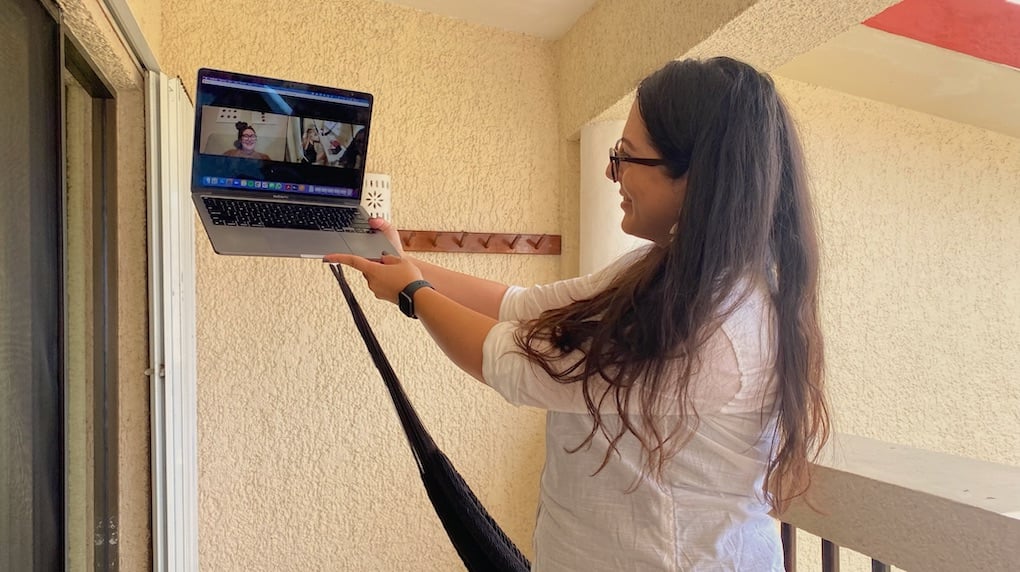 What surprised us were the benefits. We knew we'd have to maintain the quality and focus of our work, but the trip came with some added bonuses. With all of us representing different departments, we were able to brainstorm ideas with different knowledge and perspectives. We were able to discuss solutions and processes that affected all of our departments, which made for breezy coordination by the beach.
We worked hard to play even harder. Nothing motivates you more than the beaconing sound of the ocean and warm sun.
Curious mind
We're glad that we didn't stay in an all-inclusive resort because it encouraged us to explore Playa del Carmen. Over the course of the week we tried different restaurants, browsed different vendors, and all in all, gained a better taste of authentic Mexican culture. We leaned into the language as much as possible, and where we fell short, appreciated Carolina's stronger Spanish skills.
The trip even made us more curious about each other. We've all done a few things together after 3+ years at Major Tom, but spending 24/7 with one another meant learning about each other on a deeper level. What brought us to Major Tom? What countries are next on our travel lists? Who can and can't handle spicy food? We even visited a delicious, unassuming Peruvian restaurant off the beaten path that allowed us to experience Carolina's culture. The food was amazing — and she loved how her coworkers were open to enjoying new food and a new experience.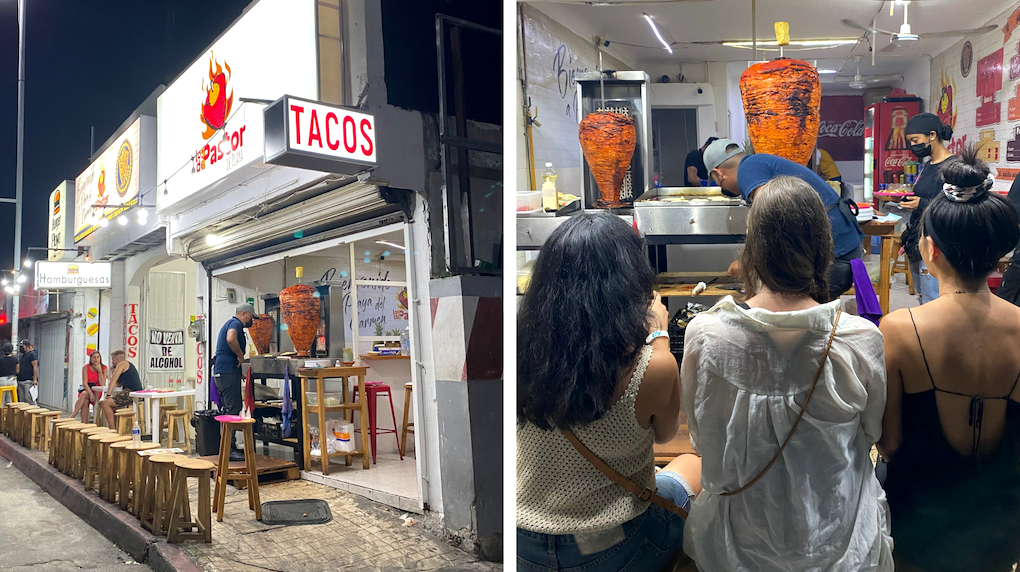 As coworkers, we got better insight into what each of us were doing on a day-to-day basis at work. From seeing, to asking, to sharing, this helped form some valuable collaborations both during the trip and extended past it.
Lead with a humble heart
Travelling always comes with challenges. Together, we overcame them every time. One of the key aspects of this value is that when someone needs support, you give it
What were our trials on the trip? One party member, unfortunately, got their card eaten by an ATM halfway through. But we were quick to rally support, calm their nerves, and provide them with spending money so they didn't feel like their trip had been ruined. On a less serious but no less painful note, we literally looked out for one another when it came to sunburns. A coworker getting you to reapply your sunscreen is certainly a happier reminder than waking up with a burn. We all still burned on the odd day, but watching each others' backs (and shoulders, and faces) kept the worst away.
We also showed the love to those who picked up group food bills, so that we avoided the painful task of calculating who owed what and to whom at the table. Using our "curious minds" for a solution to split costs, we dipped our toes in Splitwise to organize IOUs — and everyone was paid back within the first week home.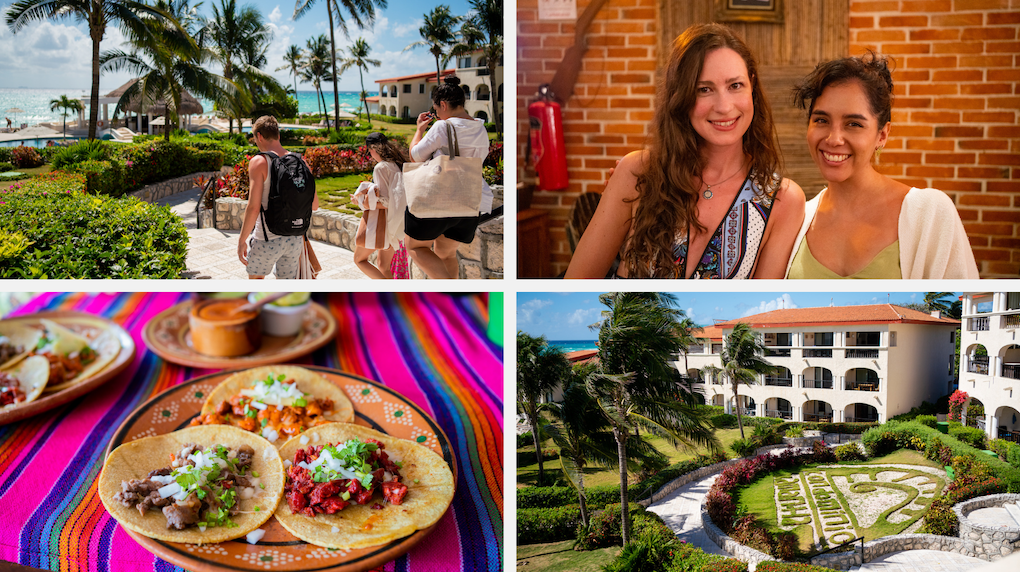 Lastly, the trip was a chance to catch up with old friends. Even though we all happen to love working at Major Tom, we know we are just one of many amazing workplaces out there and that others leave the agency to move on to new adventures.
That made it all the more exciting to catch up with a previous work colleague, Liz, over dinner one evening. She had discovered that we were also visiting Mexico, and reached out to connect. We had a great time hearing what she's been up to since leaving Major Tom, and got to fill her in on everything that's happened in the agency since she left. It was a great reminder that even though some colleagues have left, they're always happy to stay in contact — and turn many working relationships into genuine friendships.
Have an adaptable attitude

This value was put through its paces on the trip. After all, we went from jokes to booking a holiday within 24 hours, and were on a plane just 48 hours after that! Weekend plans changed, meetings were rescheduled to match the timezone, teammates were looped in, and we did what we had to in order to be fully prepared for the trip and create a successful working environment for all six of us.
It's worth emphasizing that the Airbnb where we stayed was a three-bedroom, two-bathroom apartment, shared by five colleagues (plus Tom) who had never travelled together before. It was definitely risky. But we had no issues at all.
We tapped into our adaptable instincts that we've sharpened in client and internal workshops, and applied them to close-quarter living. We had different designated working spots and coordinated overlapping meetings. We worked around each other's schedules to know who could go out for our daily lunchtime tacos — and grab enough to make sure anyone still working wasn't working on an empty stomach. Ben's homemade breakfasts definitely helped, too.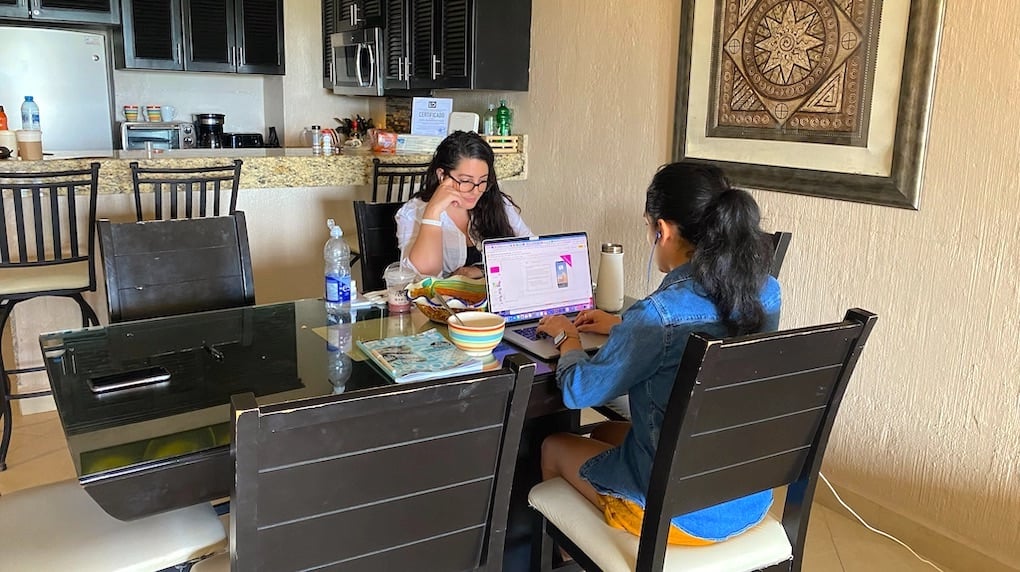 Be a plus person

It's no surprise that being a plus person comes easy when you're in Mexico, breathing in that fresh sea breeze, loading up on Vitamin D, and knowing there are some tasty carne asada waiting for you from a local street vendor. But there is more to being a plus person than being a happy coworker.
Whether one of us was facing challenges with the language barrier, having card issues, or soaking up a bit too much sun, the rest of us were always on hand to help solve problems or just lift spirits. Sadly, there's no instant cure for sunburns, but storing aloe vera in the fridge made it much easier to keep smiling through the pain.
What we learned

One of our biggest discoveries on the trip was learning that who we are at work is the same as who we are in our personal lives. There were no huge surprises travelling with each other in Playa del Carmen. Once the work facade got pulled back, we realized that we were all already our authentic selves at the office.
That's why Major Tom hires team members who embody these five values. It means working with people you can depend on, and enjoy being around. What we learned through this experience was that it stays just as true in or outside of the office.
Is this the start of an annual working trip abroad? We sure hope so. Since we've been back, many of our co-workers say they wish they could have joined us. In fact, not to get too ahead of ourselves, we may have even started brainstorming possible destinations for next year!

And all of this from one visa discussion over drinks. Talk about creating a long-term positive from a negative situation!
If trust, accountability, and flexibility are all values you look for in a company's culture, look no further. Head to Major Tom's career page today, and work from a beach in Mexico tomorrow!